This integration document is obsolete. For the latest version, goto Genetec Integration.
The Genetec Security Center integration first appeared with OneTrack 3.5.0 and Security Center 5.5 SR5.
The minimum version must be 5.5.670.13026 (SR5 CU13).
Also make sure that .NET Framework 4.6.2 is installed on the machine running Genetec Security Desk.
Security Center Configuration
Login to the web interface: http://localhost/genetec

Make sure the license is valid. Otherwise, you must activate the license from this web interface.

Also make sure your license supports the Plugin SDK:


You can now close the web interface.
In config tool, click the "+ Video Unit" button:

In the Manual add form, select ONVIF manufacturer, select Basic product type, enter the IP address and HTTP port of the OneTrack server, along with username and password. Click Add and close.

All the cameras of the OneTrack server should be listed under the archiver unit:

Next, access the Custom Events settings to add the events specific the to OneTrack:

Create event with Entity type: Camera:

The following events must be created:
Person: 5000
Car: 5001
Other: 5002
SignalLoss: 5003

VideoWave OneTrack Configuration
Launch the OneTrack and open the system advanced settings. Enable the Genetec Bridge and fill the connection informations:

Security Center Usage
Launch Security Desk. If you add Monitoring page, you should be able to see the cameras from the OneTrack: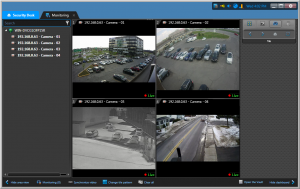 Overlays
NOTE: a reboot might be required at this step to see the overlays for the first time. Also, make sure that both the Genetec computer and OneTrack computer clocks are synchronized. Internet time synchronization is recommended.


Detected objects are displayed with a colored bounding box. Detection zones are displayed with in cyan. Transition zones are displayed in yellow.
From a context menu directly in Genetec Security Desk, it's possible the toggle the overlays to display:

Events
To test event monitoring, you could first check Monitor events for a camera:

Next, you should start receiving events from the OneTrack:

Note: The system clock of the OneTrack server with be automatically synced with the Genetec server.